Posted on
By Sheila Habano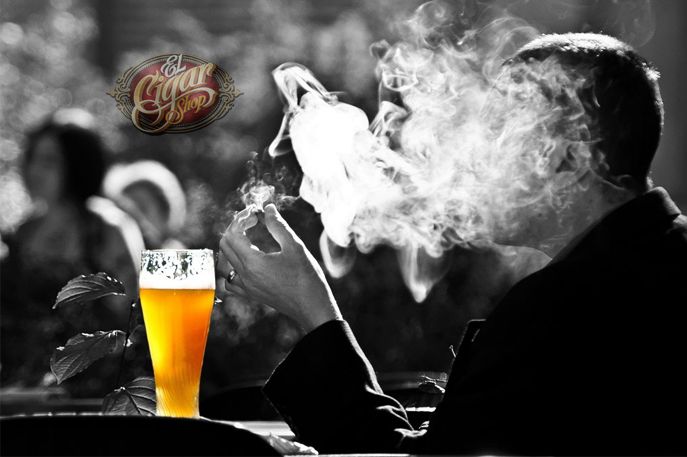 Cigars have long been associated with Bourbon and Scotch whiskey. However, cigars and craft beer can pair just as well.
Cigars have long been associated with Bourbon and Scotch whiskey. However, cigars and craft beer can pair just as well. There are endless combinations of flavors to experiment with. With some due diligence, you will find what suits your palate.
When pairing cigars and craft beer there is one guideline that most people agree with; that is to pair the type and body of the cigar with a beer that has similar characteristics. For example, match milder cigars with lighter beers and pair full-bodied smokes with heartier, bold beers. These pairings help one from overwhelming the other.
A mild cigar with a Natural wrapper will compliment an American lager. While a robust Maduro cigar will mate well with a hoppy Indian Pale Ale. You can also experiment with cigar and beer pairings around common flavors. For example, a stout with hints of chocolate and espresso could meet its match in a cigar with similar flavors. In the colder months, you may prefer bold, powerful and boozy beers. When the weather warms up you may opt for crisper beers with a hoppy character.
With those simple rules in mind, here are a few pairings to get you started:
Recommended Cigar and Craft Beer Pairings
#1.
Oliva Serie V Melanio was named Cigar of the year in 2014 by Cigar Aficionado with an impressive 96 rating. Well rounded flavors of caramel pair nicely with a sweet earthiness from the wrapper. This incredible combination provides a very smooth smoke. Indian Brown Ale is a cross between Scotch Ale, India Pale Ale, and American Brown Ale. It is complex in nature, however quite versatile. Indian Brown Ale by Dogfish Head Brewing Co. is brewed with aromatic barley and organic brown sugar which enhance the caramel notes and the earthy-sweet elements of the Oliva Serie V. Wow!
#2.
The Rocky Patel 1990 Vintage Series is a mild to medium-bodied cigar with the essence of chocolate, toasted nuts, and caramel being very predominant. When paired with Young's Double Chocolate Stout, which has a soft mouthfeel, you will notice an extraordinary sensation envelope your taste buds. The lush and velvety essence of the beer works well with the Rocky Patel 1990 Vintage's creamy texture. Also, their chocolate flavors enhance each other incredibly. Delish!
#3.
The more approachable full-bodied character of an IPA matches well with a Padrón Maduro 3000. The Maduro is sweet with undertones of chocolate, coffee, vanilla and baking spices. This bold, creamy smoke fits beautifully with a Stone Mocha IPA by Stone Brewing Co. This highly regarded IPA among craft beer fans is smooth and complex with beautiful notes of chocolate and coffee. These two come together in a union that will surely excite any fan of bold flavors!
#4.
Porter is similar in origin to stout, but has a lighter flavor courtesy of malted barley, as opposed to the roasted barley found in stout. As a result, porter retains a rich, well-rounded texture, but exhibits a slightly less intense flavor. Pipeline Porter by Kona Pipeline Porter is smooth and dark with a distinct roasted coffee aroma and earthy complexity from its diverse blends of malted barley. The Gran Reserva Hemingway Between the Lines by Arturo Fuente is toasty and earthy with intense flavors of nuts, coffee, and chocolate. The earthy, sweetness of the cigar is gently enhanced with coffee and chocolate hints from the brew. A truly enjoyable pairing!
#5.
Montecristo Classic Especial #1 is a blend of the highest-grade Connecticut shade wrappers and specially aged Dominican binder and long filler tobaccos. The very smooth smoke has a savory nuttiness with a hint of coffee with cream. Goose Island's Four Star Pils is a well-balanced pilsner with malt and hops character. It has a toasted cracker malt sweetness complementing the herbal and floral tones of the hops. Coupled with the No. 1, it's a classic match that'll give a quick shot to your senses!
#6.
Esteban Carreras Mr. Brownstone Nicaraguan Habano features a slightly oily, brown Natural Nicaraguan Habano wrapper with an intricate binder from Jalapa, Nicaragua. The filler tobaccos originate from the Nicaraguan regions of Jalapa, Condega, and Estelí. Cubanesque in flavor and depth, Mr. Brownstone Nicaraguan Habano pairs nicely with an American Lager. Anchor California Lager is made in San Francisco with two-row California barley, Cluster and Anchor's own lager yeast. This all-malt lager has a well-defined aroma, creamy head, balanced depth of flavor, and a smooth finish. Anchor California Lager is crisp and made how light American lagers should taste. This goes well with the Nicaraguan tobaccos in Mr. Brownstone. What an incredible pairing!
We hope you have enjoyed our suggestions for pairing premium cigars with craft beers. Remember to visit our website often for the latest recipes, cocktails, and pairing suggestions as related to the enjoyment of a fine cigar. We at El Cigar Shop are constantly searching for ways to enhance and elevate our enjoyment of a good smoke.  We hope you feel the same way.
Follow us on Facebook | Instagram for more pairings, deals, and more!