Posted on
By Sheila Habano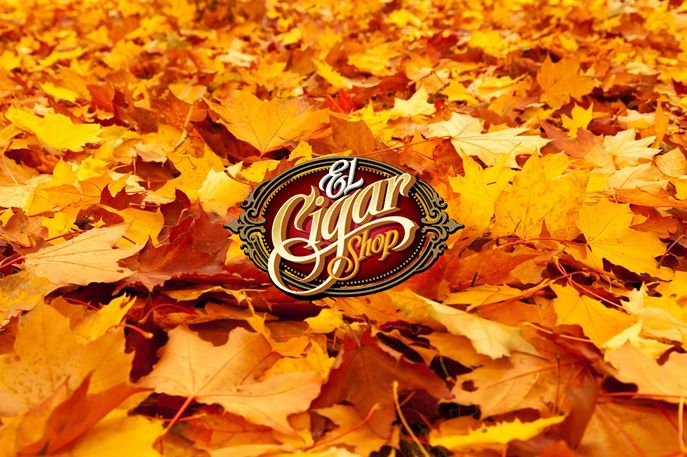 Autumn is about change and we at El Cigar offer an array of cigars and can assist in selecting the perfect cigars to suit your changing taste during this time of the year. Relax and revel!
Autumn, to the cigar aficionado, is often considered the best time of year. There are several reasons for this but one of the main reasons is that most tobacco is produced and cured just before fall, meaning the leaves will be incredibly fresh.  
Another reason that cigar smokers get excited at the change of the season is the atmosphere itself. Shorter days, cooler nights, and lots of color in their surroundings to take in while enjoying a great smoke.
Therefore, we present the top cigars to smoke and stock in your harvest humidor.
Recommended Fall Cigar Choices
Alec Bradley Tempus Natural Centuria showcases a wrapper leaf from farms in the Trojés region of Honduras rounded out by Nicaraguan and Honduran filler and a binder from Honduras and Indonesia. Take your time in the fading sunlight with this premium cigar, making sure to bask in its full-bodied decadence along with your favorite spirit in hand.
The Kentucky Fire Cured Chunky by Drew Estate is a woodsy medium bodied cigar, hickory-smoked to perfection. Get your friends together, put some steaks on the grill, grab some brews and savor the last warm days of the season with this very unique stogie.
Macanudo Hyde Park Maduro features a dark, earthy Connecticut Broadleaf wrapper, Mexican and Dominican longleaf filler tobaccos, and a Mexican binder. This lighter bodied Maduro is rich with notes of chocolate and coffee. The Macanudo Hyde Park Maduro is ideal on a crisp, fall morning with a cup of rich espresso.
My Father The Judge is a blend of 3 Nicaraguan fillers, 2 Nicaraguan Criollo and Corojo binders, all cloaked in a gorgeous dark brown Ecuadorian Sumatra Oscuro wrapper. The full-bodied, bold smoke satisfies with flavors of gingersnap, pepper, chocolate, and a nutty character. This cigar almost seems to warm you up as a brisk chill emanates from a turn of the season.
The Oliva Serie V Melanio consists of high-priming Ecuadorian-grown Sumatra long leaf ligeros from the Nicaraguan regions of Estelí and Condega, emphasizing the tobacco leaves from the Jalapa Valley.  Notes of deep earth, leather, chocolate, and spice are balanced with a sweet touch of molasses. Whether you are celebrating a special occasion, or you just want to chill with a fine Bourbon, Oliva Serie V will exceed any cigar connoisseur's expectations, especially on a chilly October evening.
Padrón Serie 1926 No. 9 Maduro engages Nicaraguan tobaccos aged for five to ten years. A pitch black, smooth Maduro wrapper thickly blankets the finely aged tobaccos creating sweet roasted java flavor along with notes of pepper and chocolate. Very sweet and very rich, the oversized Robusto Padrón 1926 is great for a night by the campfire or a long smoke over the poker table.
Perdomo Habano Bourbon Barrel-Aged Maduro Robusto is an incredible blend of meticulously aged Nicaraguan long filler tobaccos wrapped in a gorgeous Maduro leaf. The Habano wrapper has been aged at least 6 years before it is rested for an additional 14 months in bourbon barrels.
Perdomo Habano Bourbon Barrel-Aged cigars all boast a medium to full-bodied profile with hints of cocoa and dark roasted coffee along with the subtle, smoky flavors of bourbon.  Tonight is a bourbon kind of night. Sip a glass of the good stuff and light a Perdomo to complete the experience.
Rocky Patel Decade Cameroon Toro showcases a gorgeous, dark Cameroon wrapper surrounding a secret blend featuring only the finest tobaccos in the world. Notes of hickory kick-start the stogie with caramel, spice, nuts, and coffee along for the ride. After soaking in the autumn's fiery foliage along the country roads take a break and relish in a Decade Cameroon.
The coffee infused Tabak Especial Negra is a blend of rich long-leaf tobaccos from Nicaragua with a dark brown rich Maduro Broadleaf wrapper along with a shaggy-foot. Tabak Especial Negra is rich and creamy with dominant notes of cocoa and espresso along with Drew Estate's signature Nicaraguan tobacco flavor. Pour a little Kahlua in your coffee and indulge in the aromas of the specially blended Tabak Especial Negra on a cold Autumn morning.
Autumnal Beer & Cigar Pairing:
Sierra Nevada's 2018 Oktoberfest is brewed in partnership with Weihenstephan, the oldest brewery in the world, established in 1040. This highly rated brew is creamy and doughy on the palate like a fresh out of the oven slice of bread.
This Fest Bier features a touch of bitterness on the finish from Sterling and Spalter hops, cutting crisp and clean through the malt sweetness. Pair Sierra Nevada Oktoberfest with any of the above cigars and hopefully you'll find the perfect combination to suit your palate.
Autumn is about change and we at El Cigar offer an array of cigars and can assist in selecting the perfect cigars to suit your changing taste during this time of the year. Relax and revel!